i am now convinced that 2011 will treat me well. yes, my friends, it is true. i can, with mine littlest eye, spy the brightest of sparks in the future. curious, are you? well, i have just been informed that I, Kim, am a weiner. Oops, i mean, winner.
want proof?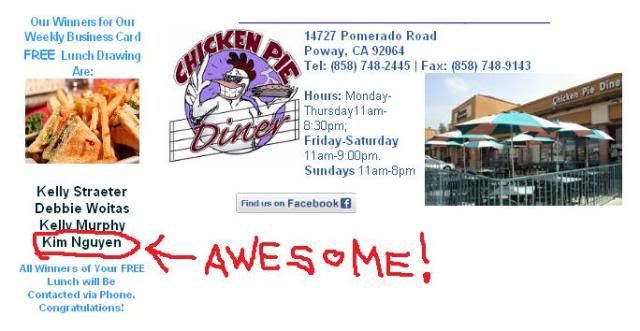 lunch on me, suckers! i'd like to thank the academy of eaters, the fried dumplings, the sweet potatoes, oh, and kumon north america, inc.
oh, the joys of owning a business. (business cards are The Awesome) maybe i will get one made with the following words: "Kim Nguyen, Professional Lunch Winner Extraordinaire"
[is it sad that this will probably be the high point of the year?]
free lunches to you and to yours! happy new year!